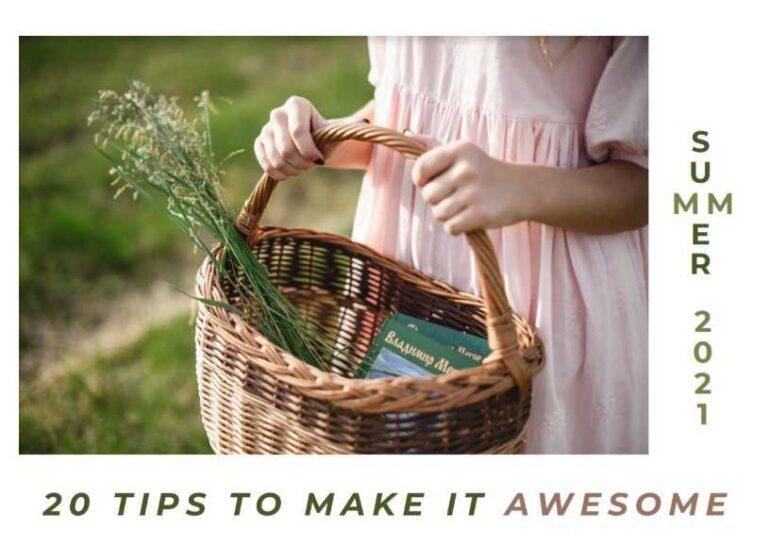 Summer is a special time when you are open to new interesting things… and even crazy! We draw up a list of ideas to make your summer awesome. Just add one new thing from this list to your life every week!
Pick strawberries. You can go to forest or strawberries farm, and spend a couple of hours there. It will be the best time!
Spend night under an open sky. You may remember that Vladimir Megre describes it in the book "Anastasia" – when you sleep in the open air, you can dream about something very important for you, and cosmic energy will help to bring it in life.
Try bungee jumping. For those who like extreme activities.
Plant a tree. You can take a little seedling or start with seeds. For example, take cedar cone to grow cedars or acorns for planting oaks.
Take a spontaneous road trip. Pick a point on the map, take your best friend or soul mate, get in your car and go. Necessarily take some Cedar-Honey Bars with you.
Start writing "the Family Book" if you have not yet. Skype your mom, dad and grandparents, ask them what they want to tell their descendants. And write the first page of your Family Book.
Do open air yoga class. Start one of your summer mornings this way… maybe it will become a new tradition or new source of energy.
Make a cedar lemonade by yourself. You need just sugar free Cedar Syrup, lemon, mint leafs and pure or mineral water for it.
Go to the beach where you have never been.
Take a horse-riding lesson.
Write a letter for yourself in future. Write about your dreams and goals, how you see life 5-10 years later. Seal the letter in a beautiful envelope or in a bottle and make a sign "Open in 2026". Imagine how interesting it will be to get your own letter after years.
Light some candles and take a relaxing bath with Anasta SPA. Just put the time on pause and relax your body and soul.
Be a tourist in your own city. Take some hours, go to a new place and you may get surprised just how wonderful it can be.
Do a random act of kindness. Donate some money, pay for a coffee someone next to you in the queue, participate in planting trees… The possibilities are endless. Share with us what you chose!
Watch the sunset or sunrise in special place. You can go to the beach, climb to the roof, or a riverside.
Make little surprise to your friend. Just like that, with no any reason. It should be a handmade cedar soap, beeswax candle or Russian herbal tea, for example.
Go kayaking or canoeing. It is a cool experience you will remember for a long time.
Get caught in a summer rainstorm. Just because
Spend the entire day barefoot. Chose a day you can spend on a beach or in soft grass field and you will feel the world in a new way.
Sign up our Instagram account @megre_llc, give likes for some posts and ask that you want in direct. And know, we love you too.
After doing some points from the list, you may want to make your own one, do it and make every day like birthday.