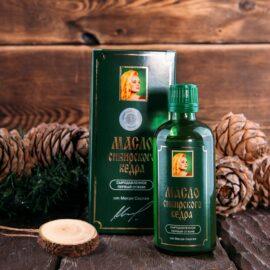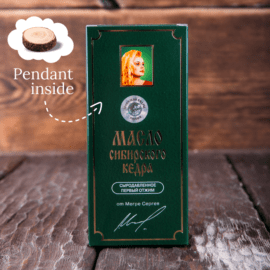 Earn 45 reward points
45.60

USD
Cedar Cough Drops
Colds and cough might attack at the most inconvenient time. Even when we notice the first symptoms, we want to get rid of them as soon as possible, not even mentioning the cases when we actually get sick. And of course, we always want to use natural, safe and effective remedies.
"Ringing Cedars of Russia" cedar healthcare products include cough drops based on cedar cone oil and cedar nut oil with the addition of active ingredients – taiga plants and wild berry extracts. They're natural, preserve the most valuable Siberian cedar properties and possess natural antiseptic properties.
Cedar cough drops quickly and gently relieve sore throats, have healing properties and a pleasant cedar-berry taste. Coniferous esters, cedar resin and the vitamins contained in cedar oil do not lose their healing properties during processing. Their rich abundance in the cough drops ensures effectiveness of the product.
Please note that cedar cough drops do not contain added sugar, are safe for children, people with special sensitivity to medicine, allergies and diabetics. It is a great idea to buy cough drops of cedar and always have them available in a handbag or first aid kit.
Cedar cough drops healing properties:
Cedar cough drops are a gentle and effective healthcare remedy, and:
Help to cope with colds, destroys germs and viruses
Prevent the inflammatory processes
Relieve the symptoms of angina; create a protective film, gently enveloping the throat to reduce pain when swallowing
Soften cough symptoms
They have a stimulating effect on the immune system and nourish body cells with vitamins.
In addition to the therapeutic effect, cough drops of cedar help in the following cases:
Cedar cough drops minimize the risk of catching a cold when you are in a company of sick people; they relieve the first symptoms and soothe the throat in the early stages of a cold, preventing its development.
They soothe the throat and helps against tickling in the throat caused by loading on vocal cords. It is especially valuable for people who have to speak a lot
They have a natural taste and smell, gently freshening the breath
It doesn't even need to be mentioned that cedar cough drops are delicious and healthy sweets, which every person watching their figure and beauty will appreciate.
How to buy Cedar Cough Drops?
You can buy "Ringing Cedar of Russia" cedar cough drops on the official online shop www.megrellc.com and receive them at the earliest time possible.  We ship the order the next day after the payment and deliver straight to your door.
Being the direct manufacturer of the cedar cough drops, we guarantee that the product we ship is from the original Siberian taiga, packed and sent directly from a warehouse in Siberia. We also guarantee the best price and quality of cedar cough drops.
Contact us for more information.